I'm very busy at the moment. The last few years have been the busiest comic production years for me in about two decades! Frustratingly, little of it has been released yet.
But hold on… I'm getting ahead of myself.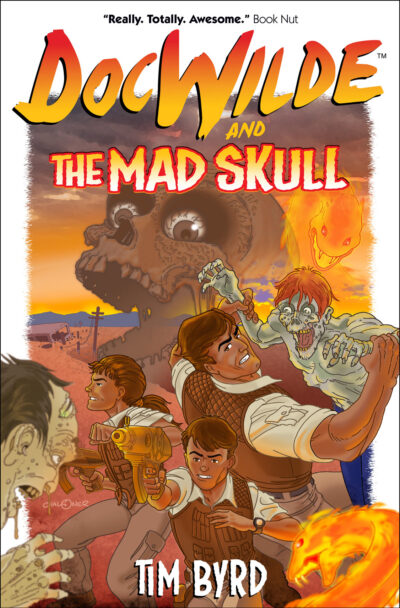 About two years ago, I came to the realisation that I was happiest doing my own comics. At the time, I had committed myself to a few projects that are only now seeing the light of day. I have to complete these obligations before I can move forward.
First off, I have produced the cover and nearly 40 interior illustrations for an adventure novel by American author Tim Byrd, Doc Wilde and The Frogs and Doom. It's the first in a series of Doc Wilde books by Tim, but, while I've produced a cover for the second book which you can see at left (Doc Wilde and The Mad Skull), I won't be doing the interior illustrations. That assignment has gone to the amazing Tess Fowler. You can read more about this over at the Doc Wilde website. It might also happen that Tess does her own cover for book two. I hope she does. Regardless, I can't wait to see The Mad Skull, as I'm a big fan of Tim's writing.
(I've let Tim know that, personally, I think each Wilde book should be done by a different artist. Both to set them apart stylistically, but also to enable books to come out faster.)
My initial commitment to Frogs started out as a cover and about a dozen illustrations, but as the months floated by, the project expanded to a grand total of 38 black and white illustrations with grey tones, front and back full colour covers and the full colour cover for the next book. Now, I'm not the fastest artist in the world, so this really tossed the multi-book Wilde schedule out the window. It also had a dramatic domino affect on other projects I was involved in and an even more dramatic affect on my ability to earn money.
I'm happy to say the job eventually got done and my sample copies are winging there way to me as I type. But that's not all.
I offered to do the book design and prepress for both the printed edition and the ebook edition. The InDesign files were easy enough to put together, but the formatting of ebooks for a variety of devices was maddening. The ebook technology isn't very flexible yet, so formatting the book to have illustrations laced throughout in a similar format to the printed edition entailed a steep learning curve. Steep. But that's not all.
Over the last few days, I've just completed the prepress files for the Portuguese translation of Frogs: Doc Wilde e os Sapos da Perdição.
The other creative jobs I've been hard at work on are The Undertaker Morton Stone and Unmasked, both for Gestalt Publishing.
The Undertaker Morton Stone is a six-issue series that will be released digitally first, then collected into print. The first issue has been completed since January. Issues two and three are currently being edited and finished off. Work continues on issues 3-6. The first three issues have covers by Ben Templesmith (#1) and Ashley Wood (#2, #3), with all three coloured by Chad Fidler.
Unmasked is a four issue series by writer Christian Read, best known for his Eldritch Kid material, or maybe his The Watch series for Phosphorescent Comics or maybe his just-released new novel through Gestalt, Black City. The first two issues of Unmasked were illustrated and coloured by Emily Smith. I was asked to come on board to finish off the series, as a replacement for Emily. The artwork for the third issue, my first, has been finished since July last year, but the book has suffered an ongoing range of production setbacks. Setbacks that were topped off by the hiring (and disappearance) of three or four colourists over the last twelve months (so I've been told). The good news is, Gestalt publisher Wolfgang Bylsma got me the half-coloured files and I've finished colouring the book myself. It looks great and I'm happily working on the fourth and final issue.
What else…
Oh, yes! Breckinridge Elkins. While all the above has been going on, I got an email recently from Paradox Entertainment, the owners of Robert E. Howard's characters (Conan, Kull, Solomon Kane et al.). My adaption of the first Breckinridge Elkins story, 'Mountain Man', has been picked up by Dark Horse Comics for their Robert E. Howard's Savage Sword anthology. It's 30 pages in total, but will run as three, ten-page chapters in issues 7, 8 and 9. The first part has been relettered and delivered. Work continues on the rest. If the reception to the work is positive, more adaptions of other Breck misadventures may happen.
Closer to home…
There's a new comics publisher in Tasmania: San Kessto Publications. They've released two titles already, the graphic novel The Long Weekend in Alice Springs and the first issue of Down There, both by writer/artist Josh Santospirito. Down There (launched last Thursday) is a title that features a rotating roster of artists. I'm doing a little something called Plinth, which will run online and then be collected for Down There. Plinth is my fictionalised take on MONA, David Walsh's Museum of Old and New Art. We'll see how it goes.
Anything else?
Well, after all that is done, I'll be throwing myself back into a graphic novel project for Gestalt that's been written by Gary Edwards. I'm 25 pages into a proposed 150 page book. I haven't forgotten you Gazza!
I also have plans for a collected Cyclone Comics/The Jackaroo book. Scanning old artwork in my spare time.
THEN! The big news! Finally! After twenty years!!!
Naaah… this post is too long as it is.
Next time.