Last Saturday, I flew from Tassie to St Kilda to attend the Australian Cartoonists' Association's 39th Annual Stanley Awards. There, I was the recipient of the 2023 Comic Book Artist award! A great honour to be nominated as a finalist alongside David Blumenstein and my long-time mate Glenn Lumsden. But to actually pip them at the post to get the gong is amazing. It'll sit pride of place in my studio right next to the Jim Russell Award (Silver Stanley for Contributions to Cartooning) from 2017.
It's a peer/member-voted award, so my deep thanks to the ACA members that placed my name on their ballot.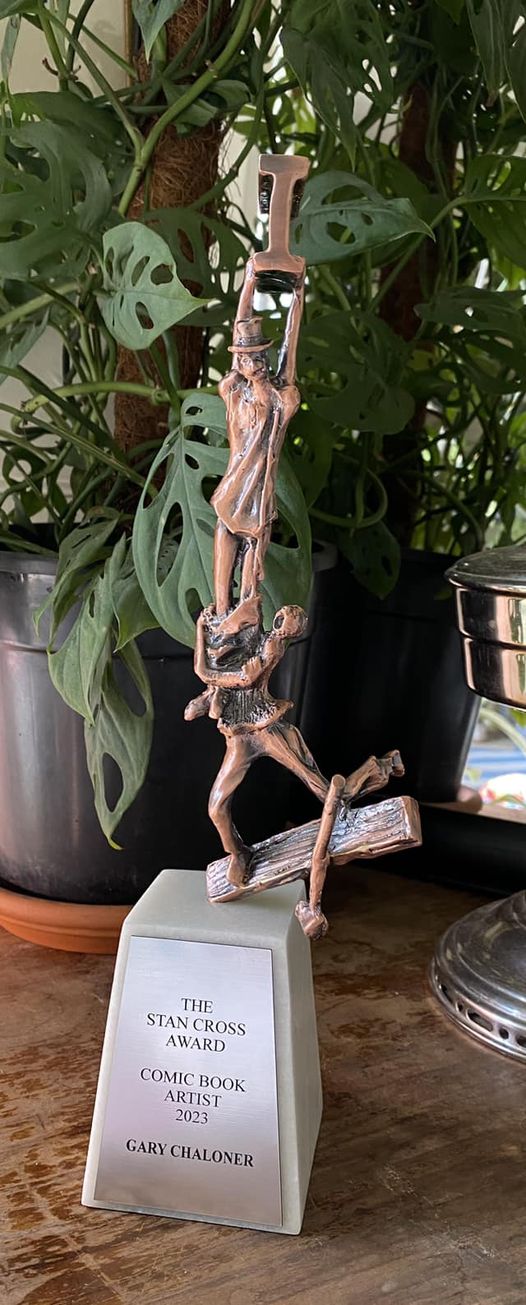 Here's the official notice from the ACA Members' Facebook page:
Rowe breaks Gold Stanley.
The Australian Financial Review's David Rowe has claimed his ninth Gold Stanley for Cartoonist Of The Year at the 39th Annual Stanley Awards held in St. Kilda, Melbourne on Saturday evening. Rowe has broken Bill Leak's eight Gold Stanleys record that has stood for 27 years. In front of nearly 100 attendees, Rowe was also recognised by his peers and was awarded the Stanley Award for Caricaturist and Illustrator.
The Stanley Award for Animation Cartoonist went to Andrew Fyfe, Book Illustrator to Judy Nadin, Comic Book Artist to Gary Chaloner, Comic Strip Cartoonist to Gary Clark (his 15th!), Editorial/Political Cartoonist to Cathy Wilcox, Event Caricaturist to Steve Panozzo and Single Gag Cartoonist to Andrew Weldon.
The Jim Russell Award for Contribution to Australian Cartooning was awarded to Peter Broelman.
Two inductees to the Australian Cartooning Hall Of Fame were Les Tanner and William Ellis Green (WEG).
The inaugural Climate Cartoon Of The Year, partnered with Climate Council, went to Megan Herbert.
Special Guest was Senator Jacqui Lambie fitted in quite nicely with proceedings, and spoke about youth mental health organisation www.orygen.org.au. Patron Vane Lindesay celebrated his 103rd birthday (again).
A special thank you to our Stanley Awards partners:
Media Super (Editorial/Political Cartoonist)
Copyright Agency (Single Gag Cartoonist)
Wacom (Illustrator)
Canson (Book Illustrator)

FULL LIST OF NOMINEES
Animation Cartoonist: Andrew Fyfe, Tobias, Krebs, Ian c. Thomas
Bool Illustrator: Judy Nadin, Jules Faber, Adele K Thomas
Caricaturist: David Rowe, Paul Harvey, Judy Nadin
Comic Book Artist: Gary Chaloner, Glenn Lumsden, David Blumenstein
Comic Strip Cartoonist: Gary Clark, Ian Jones, Tony Lopes
Editorial/Political Cartoonist: Cathy Wilcox, Matt Golding, Mark Knight, David Rowe
Event Cartoonist: Steve Panozzo, Paul Harvey, Anthony Pascoe
Illustrator: David Rowe, Judy Nadin, Dean Rankine
Single Gag Cartoonist: Andrew Weldon, Jason Chatfield, Fiona Katauskas
Cartoonist Of The Year: David Rowe, Matt Golding, Mark Knight, Judy Nadin, Cathy Wilcox
A big thank you to everyone who helped put the 39th Stanley Awards and Conference together and made it an enjoyable weekend. Even Lila Heimann with her drumroll bongo drum!